Before we come face to face with the wonder and beauty of Christmas Eve and then the finality of Christmas day, it is my honour to introduce possibly our final super special guest: Sister Cinemazov! Or just Kate, whatever you want to call her. I'm sure you'll all treasure her thoughts on Bill Murray and maybe consider shopping at ASDA for those low low Christmas prices.
Christmas for me is all about tradition especially when it comes to films. The seasonable nature of such films as "It's a Wonderful Life", "Muppets Christmas Carol" and "Home Alone" make them an extra joy to watch to get in the Christmas Spirit. As you can imagine my Christmas viewing schedule fills up pretty quick but this year I've made some space for a newbie….
In a Netflix Original Christmas Special which probably should have been entitled "Bill Murray and the celebrity cameos", 'A Very Murray Christmas' finds Bill Murray under the pressure of good cop, bad cop producers Amy Poehler and Julie White putting on a live holiday special despite the blizzard outside and the lack of any celebrity guest stars or audience.
The Christmas Story
The plot is pretty sparse and borrows heavily from the lethargy of Bill Murray's 'Lost in Translation' character, unsurprising considering it's a Sophia Coppola/ Murray collaboration. There is a gloomy melancholia which links various Christmas songs though character cameos from the likes of Rashida Jones and Jason Schwartzman. The Christmas story appears to be Bill Murray having a karaoke Christmas party where everyone is being forced to perform for Bill, who's the only one really having a great time.
The Voice of Christmas
A very Murray Christmas is full of characters whose Christmas has been railroaded and unable to or maybe unwilling to spend it with family and friends seem quite happy to have landed in Murray's cynical holiday special where everyone is miserable and the only solace that can be found is in a stiff drink and a group of strangers gathered around the piano. The voice comes through in the songs but with a few to many to allow for a bit of dialogue and character development it left many of the performances feeling rather flat.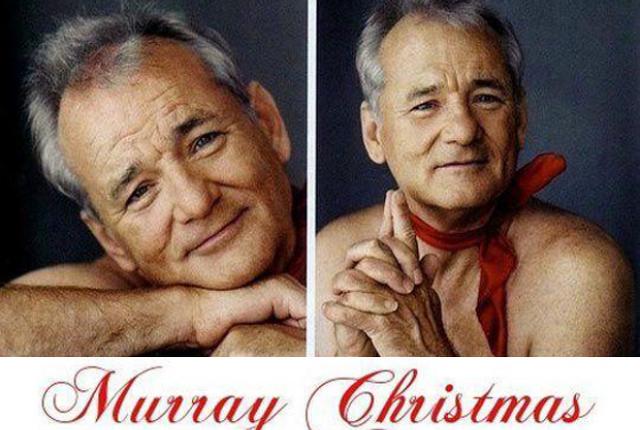 The Annoying Kid at Christmas
Being set in a hotel and for the majority amongst the whiskey bottles there was a shortage (probably wisely) of annoying kids… Closest we get is Bill Murray and George Clooney who clearly had a great time larking around with festive ladies and Miley Cyrus.
The Christmas Miracle
Bill Murray is pretty depressed by the fact that no one made it to his holiday special but along the way a few "miracles" occur from his point of view. Chris Rock appears opportunely to sing (at what looked like gun point) a rather creepy duet of "Do you see what I see?" with Bill before running away. The power goes out which means he's off the hook for the show and finally he drinks himself unconscious and dreams of George Clooney and Miley Cyrus in a Winter Wonderland in the closest we get to a fully festive scene. Miraculous!
Christmas Message
Christmas and life in general is pretty depressing but if you have to live with it do it with hard liquor, strangers and your own personal pianist to play you through Christmas Eve. And if you are friends with the creepy ghost from Scrooged, invite him why don't you!
Additional Points
- Michael Cera pops up for no reason as a sleazy producer +1
- References Monuments men in a Zombieland "Garfield" way +1
Conclusion
It's hard not to sound like a Scrooge but the biggest frustration with this holiday special is that it should have been great! I mean Bill Murray in a santa hat – we should have been onto a winner! However, the self-aware anti-Christmas really fails to get off the ground and much as it's easy to love Bill Murray wry style the special itself meanders through its hour running time without giving much back. Unfortunately, I don't think it'll land in the Christmas viewing for next year… My Murray dose will have to come through Scrooged!